A Culture Salon celebrating the AFI Research Collection Fellowship
Tue 10 Oct
Doors open:5:30pm Event starts:6pm
The Capitol, 113 Swanston St, Melbourne
For over 10 years, the AFI Research Collection Research Fellowship has supported scholars to delve into the wealth of the archive.
The AFI Research Collection holds countless gems and current AFIRC Fellow Ruth Richards has spent a year exploring the remarkable archive of Australian film and television for her research project Histories of Australian Women in Animation.
For this Culture Salon, Ruth will share some of the highlights of her research with two very special guests adding colour to those stories: multi-award-winning animator and local trailblazer Lee Whitmore, and animator and RMIT Master of Games, Animation and Interactivity educator Kate Cawley. An incredible opportunity to hear these influential voices discuss the story of animation in Australia – past and present.
The evening will feature screenings of Lee Whitmore's award-winning work: her debut animated short, Ned Wethered (1984), and 2006 autobiographical work, The Safe House.
We're also delighted to announce 2023/24 AFIRC fellowship winner on the night.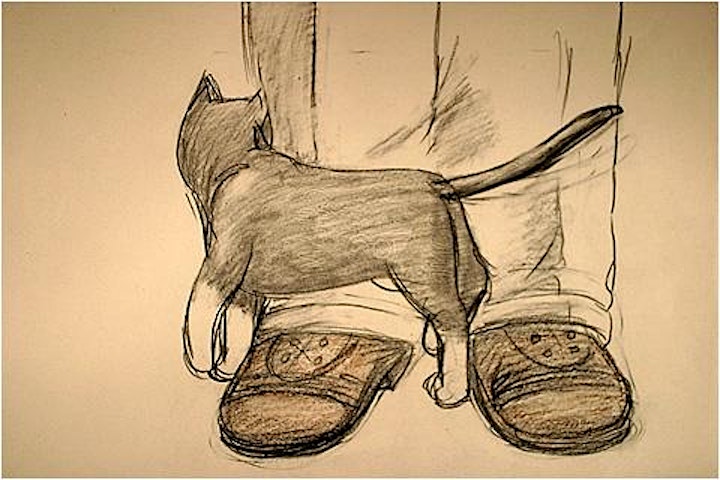 Image: Lee Whitmore, Ned Wethered (still), 1984.
Our speakers
Ruth Richards completed her PhD in 2019. Her thesis explored the body in animated film through feminist frameworks, considering the mutually productive encounter between material and corporeal feminisms and theories of animation. Ruth has previously published on the early histories and intersections of animation, cinema and performance, animation and memory, and has a most recently a chapter on representations of gender in the animated series Avatar: The Last Airbender. Her research interests include women in animation, feminist film theory, and television studies. Ruth also teaches into undergraduate courses including media production, with a specific focus on multi-camera television and liveness and cinema studies.
Lee Whitmore is an award-winning animator, filmmaker and artist based in Sydney, Australia. Before making her own films, Lee worked as a graphic artist, and worked on films such as Phillip Noyce's Newsfront. Lee's first film, Ned Wethered, was made in 1984 with a grant from the Women's Film Fund. Ned Wethered was followed by, On A Full Moon in 1997, Ada in 2002, The Safe House in 2006 and Sohrab and Rustum in 2018. Lee has also collaborated on several other important works, including the animated sequences in Susan Dermody's Breathing Under Water (1993), and Ross Gibson's Camera Natura (1985). Lee's films have won multiple awards, including the AFI Award for Best Animation for Ned Wethered, and the Sydney Film Festival Yoram Gross Award for Best Animation for The Safe House and for Sohrab and Rustum.
Kate Cawley is an animator, illustrator and educator who has created linear and interactive works in cultural, commercial and educational contexts. Her individual and collaborative works have been awarded both locally and internationally. Kate teaches in the Master of Animation, Games and Interactivity (MAGI) program at RMIT University.