The queer history of Australian entertainment television remained largely unexamined until Dr Whitney Monaghan received the 2019 AFIRC Research Fellowship. Receiving the AFIRC Research Fellowship gave Monaghan the opportunity to closely examine scripts, clippings and other resources relating to television history in Australia to identify key instances of LGB representation over the decades, in shows such as Number 96, Prisoner, Blue Heelers and Water Rats. The annual fellowship (which provides a stipend of up to $5,000 (AUD) for established researchers and audiovisual practitioners is offered to generate research while showcasing the Collection's holdings. Submissions for the 2020 AFIRC Research Fellowship are now open and close on Monday November 11. Proposals are invited from scholars around the world wishing to undertake research that utilises the Collection's resources and promotes the AFIRC through a published outcome. Originally owned by the Australian Film Institute, the Collection moved to RMIT in 2002. It holds thousands of scripts, posters and photos from Australia and around the world.
Monaghan, a teaching associate in Film & Screen Studies at Monash University, spent four weeks gathering data from the Collection, flipping through back issues of the TV Times and the Green Guide, noting the breathlessly documented plot lines of the Australian TV series that dazzled audiences with lesbian, gay and bisexual characters. 'Actor Paul Karo who played gay TV producer Lee Whiteman in The Box featured on the front cover of TV Times,' Monaghan said. 'I also searched script boxes from Crawford Productions, the Melbourne production company responsible for iconic Australian TV shows such as The Box and Skyways. 'I found 32 shows in the 30-year period from the 1970s to 2000 that featured queer characters, from Cop Shop and Prisoner in the 1970s, to A Country Practice and Flying Doctors in the 1980s, and Pacific Drive and SeaChange in the 1990s.'
Australia was the international leader in the representation of queer sexualities on the small screen, broadcasting both the first positive representation of a gay character in a soap opera; Don Finlayson in Number 96 in 1972, and the first kiss between two women; Vicki Stafford and Felicity in a 1974 episode of The Box. However, Monaghan also found homophobia remained dominant as storylines about gay bashing and violence against LGB characters were prevalent in each decade.
Her initial research had just been published in a journal article and she is excited about having found her 'next big project'. 'With further studies to identify and analyse examples of queer representation, we can attain a clear picture of the queerness of Australia's televisual history and understand the significance of this within global television cultures.'
Written by: Evelyn Tsitas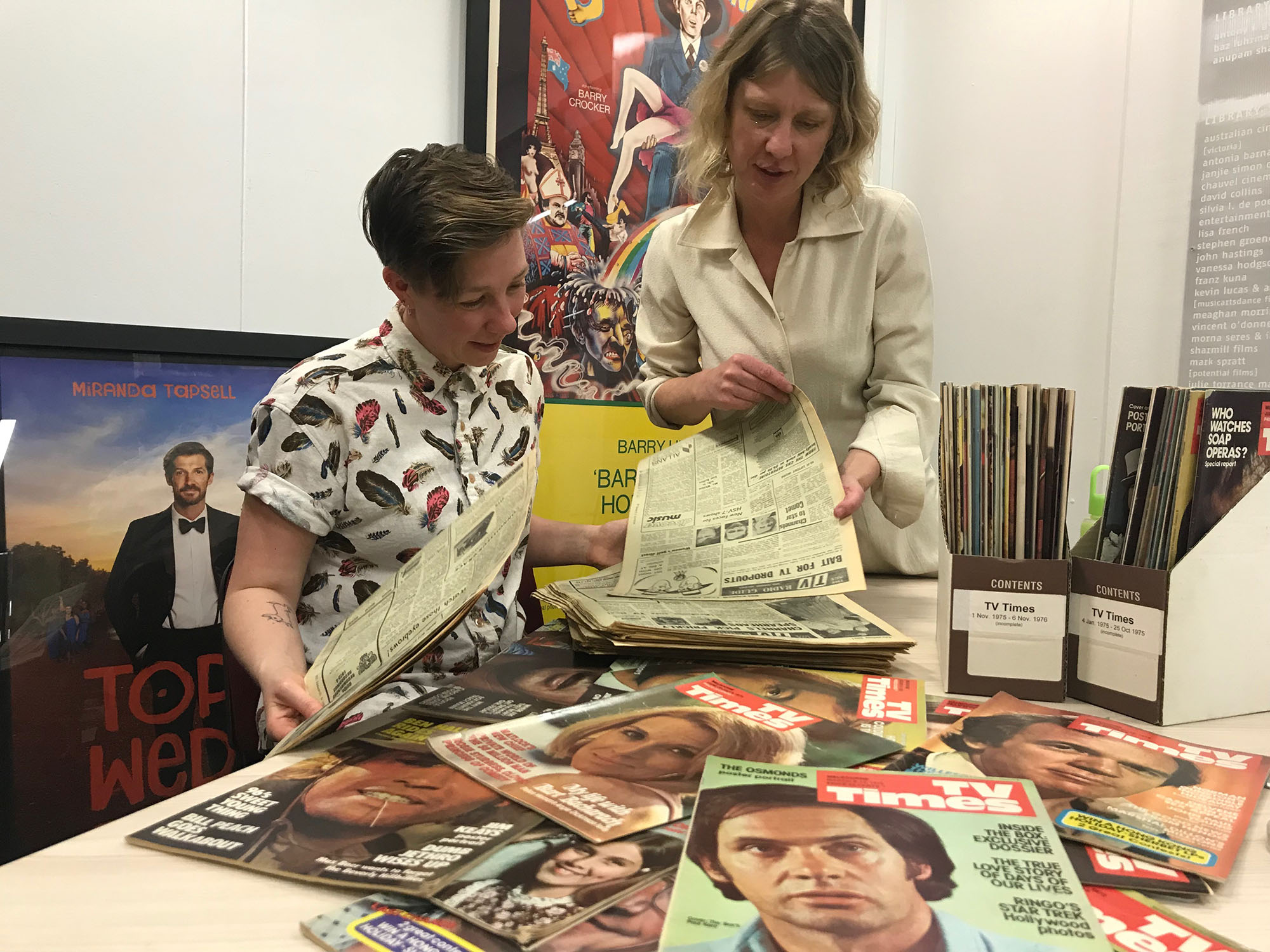 (left to right) Whitney Monaghan sorting through old copies of the Green Guide and TV Times with Olympia Szilagyi.